Preparing For your Procedure
Step 1: Schedule a call with Dr. Vinay
We like to make sure all your questions are answered. We found that a 15 minute call between you and Dr. Vinay is best.
Please schedule your call with Dr. Vinay at northwesternhair.com/vip (1 min process).
Step 2: Provide information for your prescriptions
You will need some medications for your procedure and aftercare. We will prescribe these for you and ask you bring them with you the day of your procedure.
Please fill out your prescription information at northwesternhair.com/rx (2 min process).
Step 3: Schedule your follow-up visit
We'll want to check the progress of your healing around Day 14.
Please schedule an in-clinic follow up for 12-18 days after your procedure at at northwesternhair.com/follow-up. (1 min process)
Step 4: Order your aftercare supplies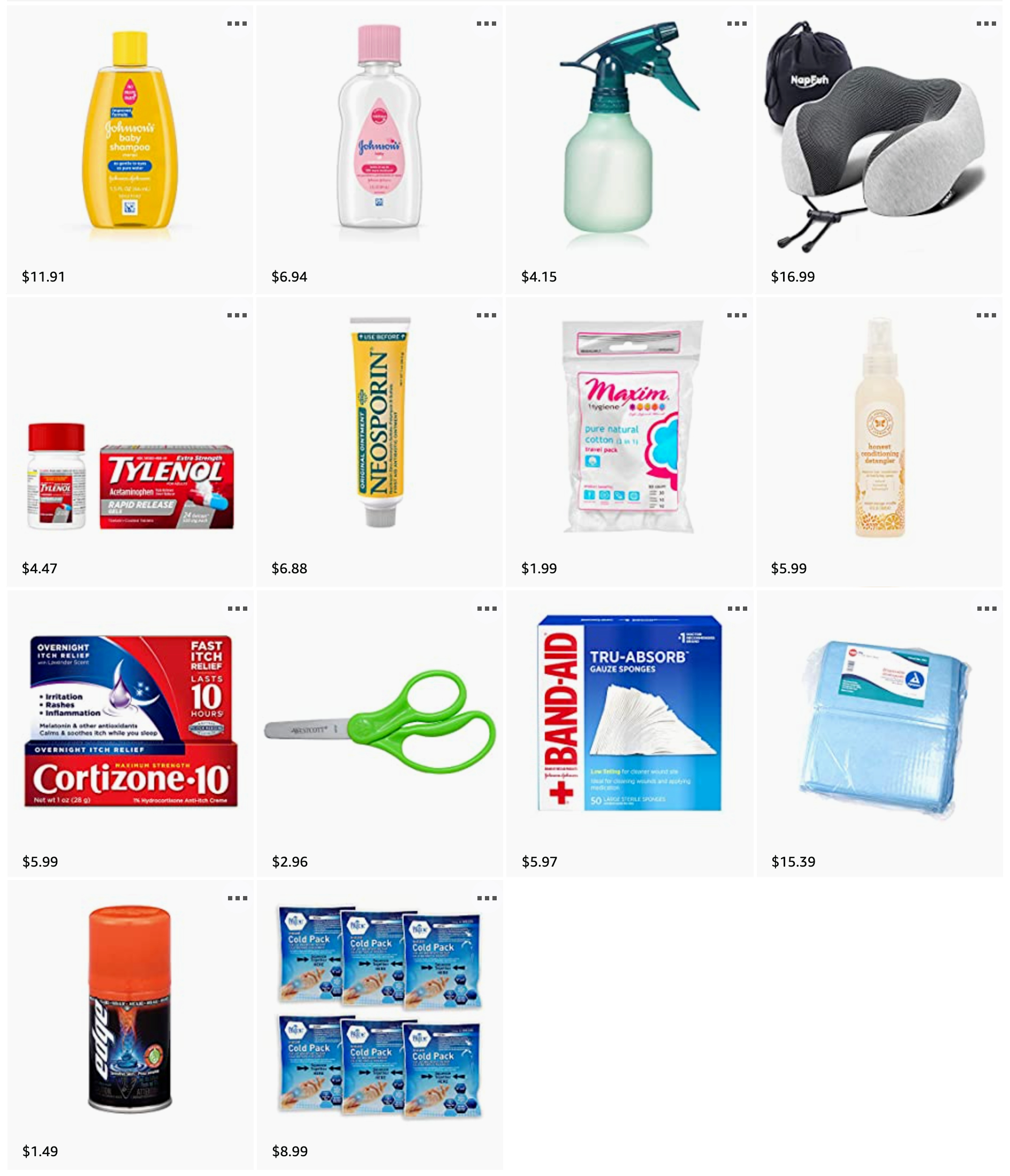 Supply List
Please purchase the following supplies prior to your procedure. They can be found at Target or on Amazon.
• Johnson's Baby shampoo (3oz is sufficient)
• Tylenol 500mg (24 tablet bottle is sufficient)
• Bacitracin/Neosporin/Polysporin (1 oz is sufficient)
• Horseshoe travel pillow (3oz is sufficient)
• Spray bottle (8 oz is sufficient)
• Under pads (5 pads is sufficient, optional to protect pillows/bed/close from getting dirty
• Ice packs (optional for swelling, two 5×5 packs is sufficient)
• Gauze pads (10 pads is sufficient)
• Mineral or baby oil (3 oz travel size is sufficient)
• Cotton balls (20 cotton balls is sufficient)
• Hydrocortisone ointment 1% (1 oz is sufficient, optional for itching)
• Small blunt-tipped kids scissors (5 inch)
• Hair detangler (4 oz is sufficient, optional if you have long hair)
• Gel shaving cream (3 oz is sufficient)
Amazon List Link
https://www.amazon.com/hz/wishlist/ls/2LW2U178ITI72?ref_=wl_share
Please note that Amazon may drop items from this list or change prices. Please use the list above to ensure you have everything you need.
Step 5: Stop these medications and supplements before your procedure
If you are taking any of the following medications or supplements, please try to stop them 10 days prior to your procedure. If you are on other medications, please consult with your prescribing physician about whether those medications should stopped for your procedure. You can restart these medications 48 hours have you procedure has completed.
Prescription medications
warfarin (Coumadin)
enoxaparin (Lovenox)
clopidogrel (Plavix)
ticlopidine (Ticlid)
dipyridamole (Persantine)
minoxidil
finasteride
Over-the-counter medications
Aspirin (Bayer, Ecotrin, Excedrin, etc)
Non-steroidal anti-inflammatory (NSAIDs) (Ibuprofen, Naproxen, Toradol, etc)
Minoxidil
Supplements
Dong Quai
Echinacea
Ephedra
Feverfew
Fish Oil Omega‐3 Fatty acids
Garlic
Ginko Biloba
Ginger
Ginseng
Green Tea
Kava Kava
Licorice
St. John's Wort
Valerian
Vitamin E (large doses)
Vitamin C (large doses)
Step 6: Get a haircut 1-3 days before your procedure
Please get your hair cut 1-3 days before your procedure with one of our partnering stylists:
Amy at Salon DJ (West Loop)
By appointment: (312) 964-5088 or www.salondjchicago.com/
Ron at Medinah Barber Shop (River North)
Walk-ins only 7a-5p Monday-Saturday, except Wednesdays
Getting your own haircut
If you decide to get a hair cut with your own stylist, please ask them for a "high & tight" cute using the following instructions: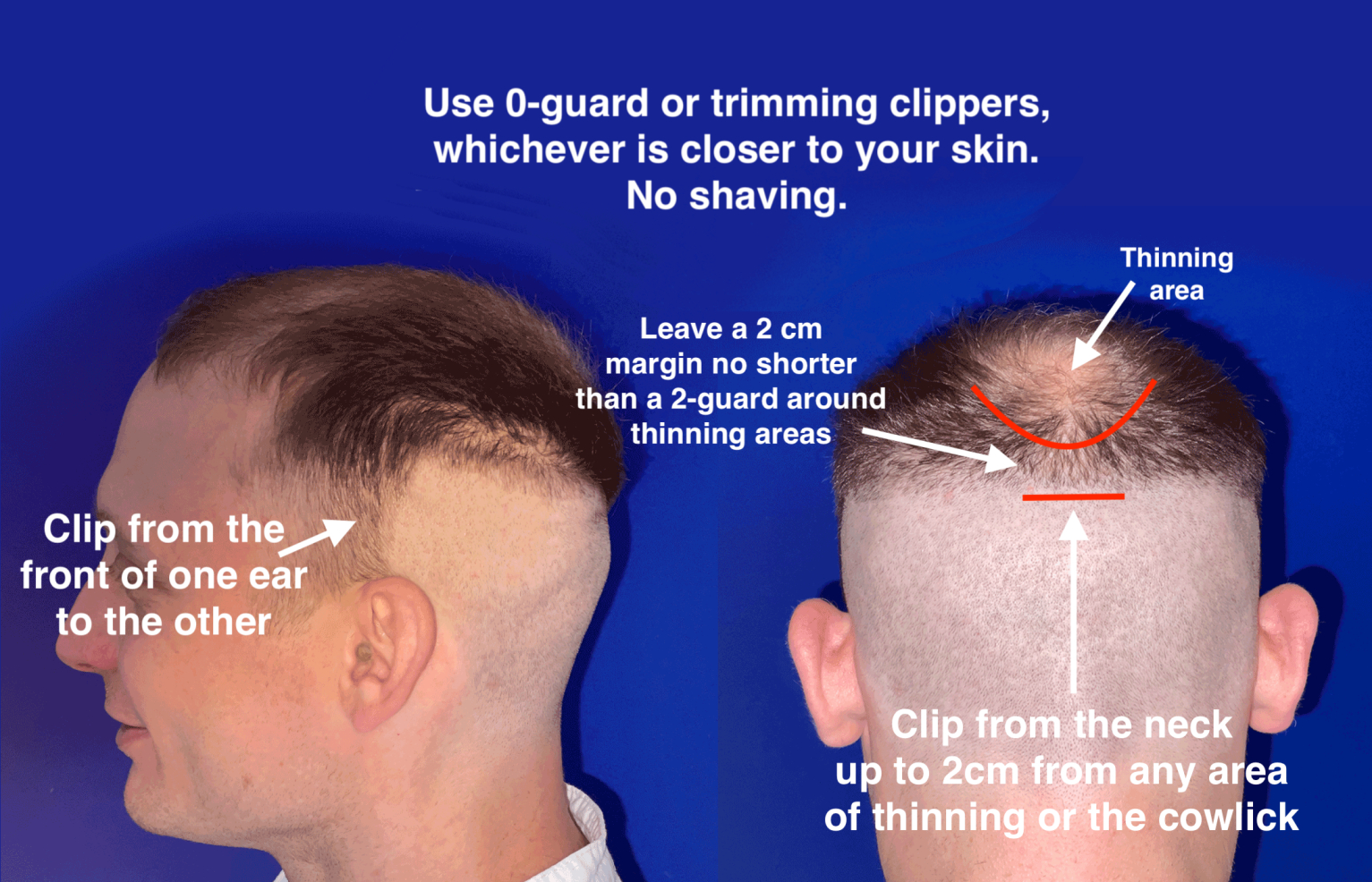 1) Use a 0-guard clipper or trimming clippers. Which ever cuts more closely to your skin.
2) Clip the hairs on the back and side of your head. Clip from your neck up to 2cm below any area of hair thinning in your crown or 2cm below your hair cowlick/swirl. Clip side-to-side from the front of one ear to the front of the other ear.
3) Blend/taper your haircut to your liking, but do not go any shorter than a 2-guard within 2 cm of any thinning area.
Call Dr. Vinay at 815-351-2801 during your hair cut if you have questions.
Step 7: Prepare for procedure day
On the day of your procedure, meet our team at 7:45am at our private clinic located at 3 East Huron St. 
What you need:
• Bring the prescriptions we prescribed for you to your procedure, but do not take them.
• Wear button-up shirt that don't have to pull over your head, where your new hairs will be.
• A ride home. Uber is fine.
The morning of your procedure:
• Eat a normal breakfast, but do not drink alcohol.
• If you wear a hair piece, please remove it along with any glue.
• Wash your hair and neck area normally.
• Do not place and leave-in products in your hair
What procedure day will be like
Our procedure day tend to run smoothly because we only do on procedure a day. Here are the step we'll go through.
1) MEET DR. VINAY AT 3. E HURON ST.
You'll meet Dr. Vinay at our private clinic at 3 E Huron St (Northwestern Med Spa).
2) REVIEW YOUR GOALS
You'll meet our transplant team and we'll all review your goals.
3) NUMBING MEDICATION
Once you're numb, you will not feel the rest of the procedure.
4) COLLECTION OF HAIR GRAFTS
While you lay on your stomach, we'll collect individual grafts for 2-4 hours.
6) EVALUATE HAIR GRAFTS
We evaluate every hair graft to ensure its healthy for transfer.
7) DESIGN A NATURAL RESULT
We dedicate an entire step to designing the placement and direction of hairs.
8) INSERT NEW HAIR GRAFTS
Now that placement and direction of hairs are set, our team will insert hairs.
Please note that the video documents a Northwestern FUE procedure. Standard FUE procedures do not include haircuts, provided lunch, or aftercare supplies.
Expectations for your recovery
Here is what you an expect during your recovery.
PAIN
For almost all, pain is minimal. Usually, by the next day all you need is Tylenol.
ACTIVITY | EXERCISE | SEX
You can start light activity on Day 2, but no sweating or straining. On Day 5, you can sweat, but still no straining. On Day 10, sweating and moderate straining is fine. At 3 weeks, anything goes.
SHOWERING
You can shower the next day, but don't get your hair wet. On Day 2, you'll use soap and water to wash your new hair. The rest of our hairs, you can wash normally. On Day 5, you'll start shampooing your new hairs lightly. On Day 10, you can shower normally.
WORK
You'll have a dressing on for 2 days, but you'll feel fine to work the next day. Review the activity restrictions to determine when you can safely work.
SUN
Minimize sun exposure for 5 days. On Day 5, you can wear a cap if you are in the sun. At 3 weeks, all is good, but sunscreen is best.
WEARING HATS
You can wear a cap starting Day 5, but make sure the brim doesn't touch your new hair. At 3 weeks, anything goes.
SWELLING
Swelling occurs in about one-half of people but is only noticeable when hairs are placed in the front. If you have swelling, it typically peaks at day 4-5 and is gone by day 8-10.
BRUISING
It is very rare to have a bruise.
INFECTION
Infections are rare, but we place everyone on antibiotics.